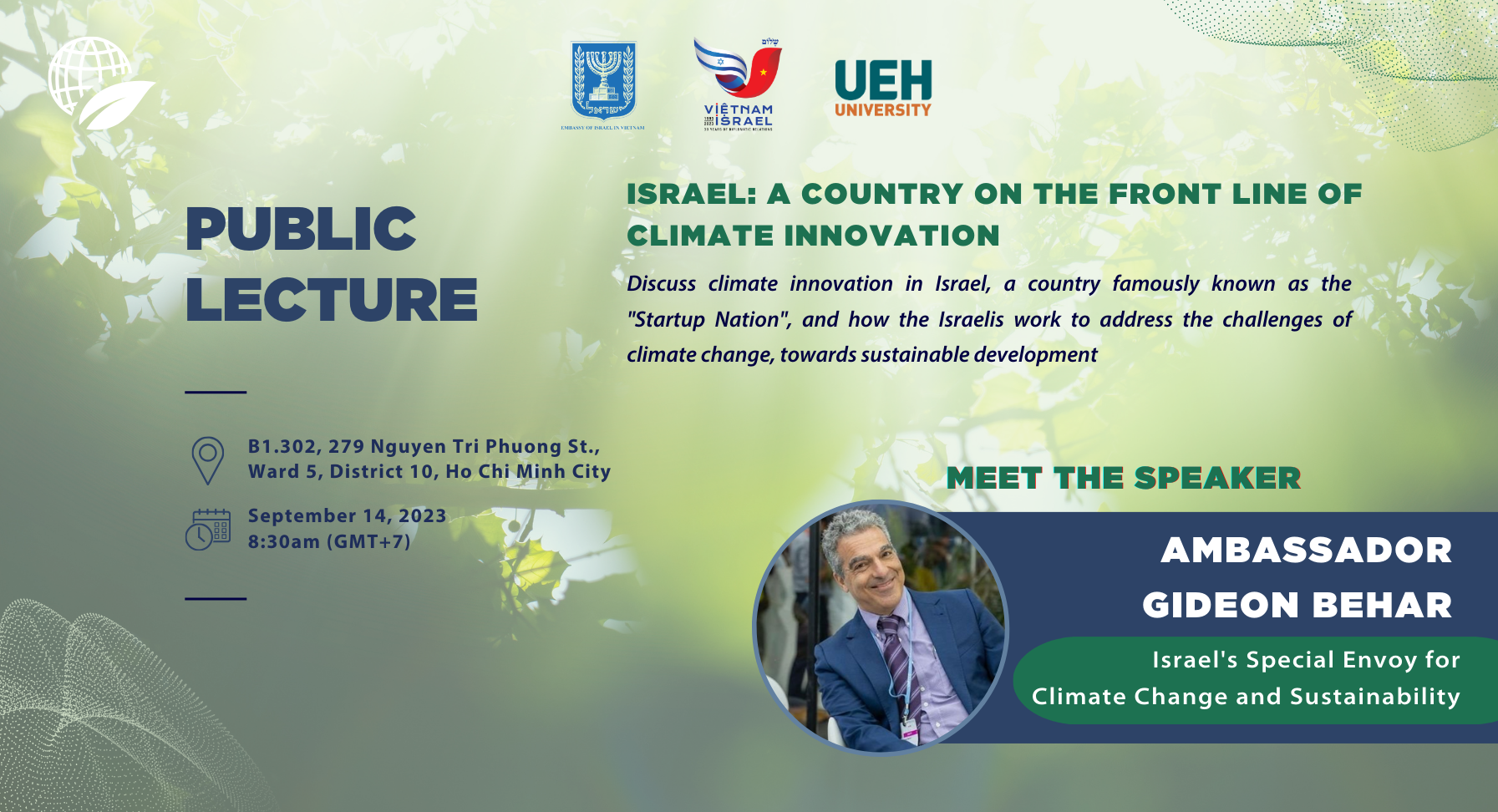 Dear Lecturers, Researchers and Students,
On the occasion of Ambassador Gideon Behar, Israel's Special Envoy for Climate Change and Sustainability, receiving the invitation of the Chairman of Ho Chi Minh City People's Committee to attend the 4th Ho Chi Minh Economic Forum in HCM city, The Israel Embassy in Hanoi would like to coordinate with the University of Economics Ho Chi Minh City to set up a public lecture to students at UEH, which is delivered by Ambassador Gideon Behar.
We warmly welcome all students and lecturers to attend this event.
Topic:  Israel: A country on the front line of Climate Innovation
Presenter:  Ambassador Gideon Behar, Israel's Special Envoy for Climate Change  and Sustainability
Time: 08:30 AM (Vietnam), Thursday, September 14, 2023
Location: Hall B1-302, 279 Nguyen Tri Phuong St, Ward 5, Dist 10, HCMC
As the world is facing a global climate crisis with its significant impacts on human life and other species, countries are urgently promoting the search for effective and affordable solutions. In this regard, Israel is considered one of the world's leading countries in the field of climate innovation. The very fact that it is located in an arid region has demanded that it develop capabilities in many areas that the world needs in order to respond to the climate crisis. Israel is leading in the number of startups in the world per capita, and today, about 1 in 7 new Israeli startups work in the field of climate technology, which can be applied to industries such as agriculture, water, energy and transportation. Ambassador Gideon Behar looks forward to sharing more of these solutions with Vietnamese friends with the hope that the close cooperation between Vietnam and Israel in promoting the application of advanced technologies will push us closer to the goals of combating climate change.
About presenter:
Ambassador Gideon Behar is Israel's Special Envoy for Climate Change and Sustainability. In his capacity, he is in charge of Israel's climate foreign policy. An expert in the field of climate change and international relations, he teaches a university course on 'The Impacts of Climate Change on International Relations' and publishes regularly in the press on such topics as climate change and the environment. He is a highly sought-after lecturer on these topics.
A career diplomat with the Ministry of Foreign Affairs since 1994, he has occupied many posts, among them Head of the Bureau for Africa, Special Envoy for African Affairs, Director of the Department for Holocaust Remembrance and Combating Antisemitism; Ambassador to Senegal; Deputy Director of the Jordan, Syria and Lebanon Department; and Deputy Head of Israel's diplomatic mission in Tunisia.
To attend the seminar, kindly register for free at: UEHxIsraelEmbassyregistration
Yours Sincerely.