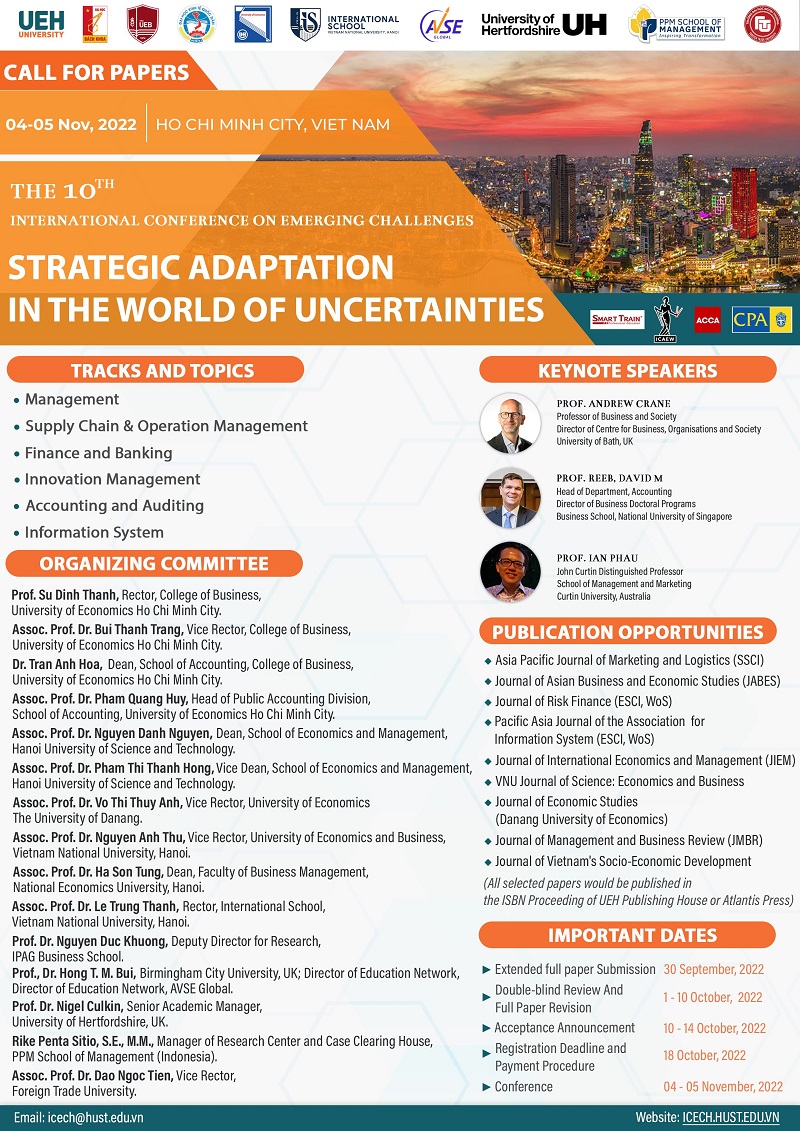 College of Business - University of Economics Ho Chi Minh City (UEH), Hanoi University of Science and Technology – School of Economics and Management, University of Economics and Business - Vietnam National University, Hanoi, National Economics University – Faculty of Business and Management, The University of Danang – University of Economics, Vietnam National University – International School, Foreign Trade University, University of Hertfordshire (UK), AVSE Global (France) and PPM School of Management (Indonesia) will organize The 10th International Conference on Emerging Challenges: Strategic Adaptation in the World of Uncertainties (SAWU) in Ho Chi Minh City, Vietnam on November 4-5, 2022. We would like to invite you to be a part of the ICECH2022 and submit your research papers for presentation consideration.
The aim of ICECH2022 is to provide a forum for academics and professionals to share research findings, experiences, and knowledge for adaptation and business strategy in a post-Covid as well as various uncertainties and complexities in the world in the Asia-Pacific region. We welcome submissions in Economics, Business, Innovation Management, and Business Law.
Authors of accepted papers will be invited to present their work at the Conference. In addition, authors of the best papers will also be invited to submit their papers to a special issue or a regular issue for publication consideration in selected journals. These papers will also be under an official double-blind peer-reviewed process by the journal. This conference will be organized on the following tracks and topics:
Tracks and topics:
Management

Managing organizations in the digital era

Corporate Social Responsibility

Management in the sustainable orientation

Shaping hospitality distribution efficiency

Supply Chain and Operation Management

Sustainable Supply Chain Management

Digitalization Supply Chain Management

Supply Chain Risk Management

SCM resilience in the new context of COVID Pandemic

Lean Industry 4.0

Finance and Banking

Corporate Finance, Corporate Governance and Insurance

Digital Currency & Cryptocurrency

International investment flows & Financial Markets

Green Banking and Financial Conglomerates

Bank Diversification and Universal banks

Investment Banking - Mergers and Acquisitions

Analysis and Risk Management of Banking institutions

Innovation Management

Social Innovation

Strategic Management

Social Entrepreneurship

Innovation and Emerging Technologies in new business world

Accounting and Auditing

Sustainable Accounting

Digital Accounting and Auditing

Creative Accounting

Public Sector Accounting in new normal context
Publication Opportunities:
-       Asia Pacific Journal of Marketing and Logistics (SSCI, IF = 3.979)
-       Journal of Asian Business and Economic Studies (JABES) (Scopus; ESCI-WoS)
-       VNU Journal of Science: Economics and Business
-       Journal of Economic Studies (The University of Danang – University of Economics)
-       Journal of Management and Business Review (JMBR)
-       Journal of Vietnam's Socio-Economic Development
-       Journal of International Economics and Management (JIEM)
-       Journal of Risk Finance (ESCI, Scopus Q3)
-       Pacific Asia Journal of the Association for Information System (ESCI)
In addition, we would like to announce the updated news for ICECH 2022. You have a chance to publish the paper in the Special Issue of Pacific Asia Journal of the Association for Information Systems. Please find attached the Call for papers (CFP) of ICECH 2022 or visit  our website https://icech.hust.edu.vn/category/show?id=28
Keynote Speakers:
-       Prof. Andrew Crane, Professor of Business and Society and the director of the Centre for Business, Organisations and Society (CBOS), University of Bath, UK.
-       Prof. Reeb, David M., Head of Department, Accounting, Business School, National University of Singapore, Singapore.
-       Prof. Ian Phau, John Curtin Distinguished Professor, Marketing Discipline Lead and the Director of the Luxury Branding Research Cluster, School of Management and Marketing, Curtin University.
Important Dates:
| | |
| --- | --- |
| Full Paper Submission | 30 September, 2022 |
| Double-Blind Review and Full Paper Revision | 1 - 10 October, 2022 |
| Announcement of Full Paper Acceptance | 10 - 14 October, 2022 |
| Registration and Payment Deadline | 18 October, 2022 |
| Conference | 4-5 November, 2022 |
Please visit the link below for more detailed information: https://icech.hust.edu.vn/category/show?id=1
Or, you can contact us and send your full paper via email: icech.cob@ueh.edu.vn
We hope to see many of you in Ho Chi Minh City in November 2022!

Best regards,
Conference Organizing Committee - ICECH 2022